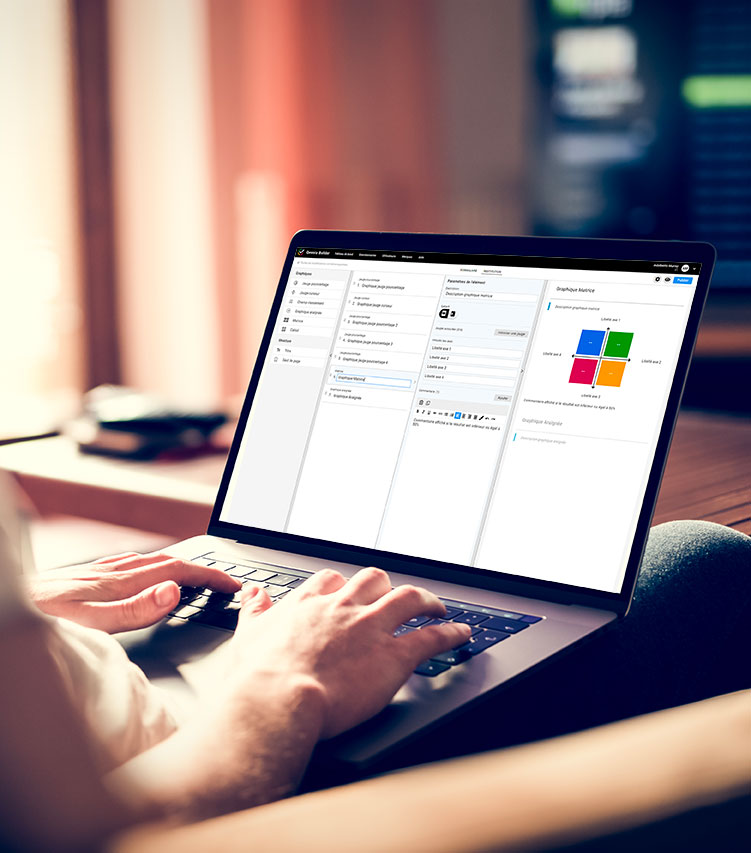 Types & Models
The qwestannaire
A qwestannaire is the association :
of an online evaluation, diagnosis or audit form
of an algorithmic analysis configured in parallel with the creation of the form
and an individualized restitution that is edited automatically as soon as the form is submitted.
Qwestannaires can be created ex nihilo or from the qwestalibrary.
Entirely configurable, they are customizable with the colors and logo of the business or the organization (white label).
The 7 types of Qwestanary®
The qwestannaires are divided into 7 types, depending on the goals pursued.
The qwestalibrary
Qwesta offers a large library of all types of qwestannaire models, to adapt with forms and restitutions, in order to save time.
Customization with your colors
Adapt Qwesta to the graphic identity of your brand.
Customize your tools and take care of your corporate identity. With Qwesta as white label, get to grips with the technology and galvanize your activity
Online forms
Closed-ended questions
All types of questions are available :
simple choice with a display in rows or columns
multiple choice with the possibility of setting the min and max number of proposals
other closed-ended questions: Likert scales, ranking…
Obligation to respond, but possibility of configuring "I don't know" or "non applicable" buttons, and add an "other" field allowing an open-ended response.
Open-ended questions
The answers can be organized in different formats :
text, with configuration of field sizes (possible unlimited entry)
numerical, with min and max values if required
date, with the opening of a calendar
e-mail address or web URL, with automatic check of accuracy.
Conditional questions
Conditional questions allow you to raise the profile of forms: it is possible to configure the access to batches of questions differentiated according to the choice that will have been made in response to a conditional question.
Advanced functionalities
Numerous functionalities to generate relevant and adapted forms :
unlimited number of questions
sequencing of the form by pages gathering a variable number of questions
possibility of configuring a random display of response items, questions, or pages
possibility of incorporating comments or instructions under the questions, at the top of the pages or the questionnaire
possibility of adding to each question a digital file (image, video, etc.)
shape customization functionalities.
Ergonomics
Great simplicity of use for respondents :
responsive display, adapted to all screen formats
dynamic progress from question to question
configurable progress bar
return button configurable at all levels.
Integration of media
It is possible to finely configure the insertion of specific digital media, depending on what the analysis will reveal :
Downloadable documents (.pdf, .doc, .xls…)
Image or video files (.jpg, .png, .avi, .mov…)
E-learning modules
Links towards a page, bibliographic references or a website…